Choose a Mainstay GC – Gutter Connect vs. a Solo Greenhouse. Check these key points.
More plants per sq. ft.
Taller G'house with more air volume provides lower-cost climate control.
Faster to install with 6′ & 12′ post spacing with 6′ rafter spacing.
Stronger wind load rating.
Cooling screens at 26′ wide can be fitted on the inside.
Gutters allow rainwater to flow into irrigation tanks, providing a cleaner & safer work area.
Growers can add more bays and lengthen the greenhouse.
Lower cost per footprint.
Fewer sidewalls to manage.
27% fewer frames & rafters are needed. Inside posts spaced every 12′ vs. 4′.
More light to pass with 6′ rafter spacing than 4′
A Mainstay GC 26'w. x 3 Bay Greenhouse at 78′ x 48′ – total 3744 sq. ft. requires 52 posts and 27 rafters. A 30'x124′ @ 3720 sq. ft. with 4′ rafter spacing requires 76 posts and 32 rafters. Call us for your Mainstay GC quote today.   
After the summer 2021, we will add a 3rd Bay.   Plant City, FL.   Come visit us in Tampa Bay.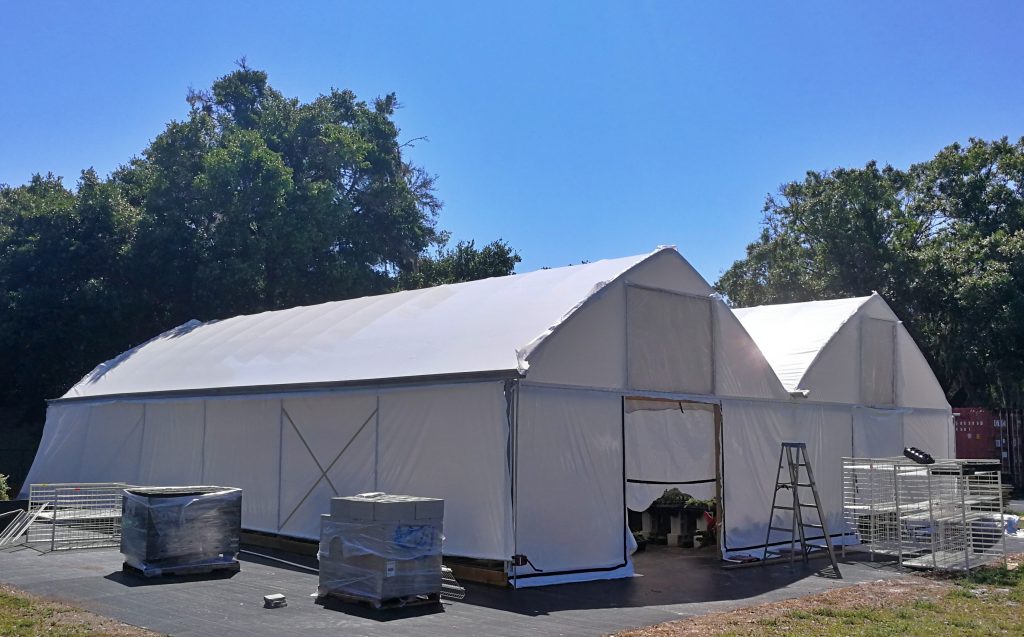 Gutter Connect Greenhouse are a much better value than Solo Greenhouses