Connect 3+ houses, adding more spans and bays when the expansion is needed.     Most first-time solo Hi-Tunnel or Greenhouse Growers buy more solo structures after 1 or 2 years and incur higher costs per sq. meter than multi-bay kits.    We highly recommend gutter-connected greenhouses.
Get proven results with:
Innovative production on our movable benches with more plants per footprint and hanging baskets above.
A much more robust structure than a solo greenhouse.
We fasten 11 or 13-gauge Gatorshield 3x3" or 2x4" posts on our rebar-reinforced Ground anchor A or B type embedded in cement footers to meet local building codes.    Inside post spacing every 12' feet to allow more plants per sq. meter.
Rafters with VW trusses, and optional knee braces, spaced every 4' for added strength. 6' or 8' Rafter spacing is available. 
Gothic roof arches with a precise curve allow improved light transmission, and snow sheds better than A-Frame roofs. 
Lower sidewall expenses and reduced sq. meter operating costs from a greater air volume to manage flattens the curve on temperatures each day.   
Improve with vented low energy passive cooling providing fresh air exchange for a fantastic growing climate.    
We'll guarantee a healthier growing environment with an 8' min sidewall height versus a 4' high Solo Structure.  
Instantly your energy costs drop, and we feel proud to announce sustainable production is underway.   Learn more today at Suntex because weather extremes have arrived, and your investment needs protection.   We offer complete Greenhouse turnkey kits with options to meet your budget and growing needs.   Contact us for Western states, Canada, and abroad. 
Growers Discover strong transplants,  ornamentals, flowers, cannabis, produce grown in pots/bags, hydroponically, or ground in a Climate Controlled Hi-Tunnel or Greenhouse.
NRCS Approved.   http://www.nrcs.usda.gov/
Each Span available in 3 Popular Widths - 18', 21', & 26'.  We can offer custom widths.
Available in 3 popular Lengths - 48', 72', 96', 144' (OK for custom lengths).
Sidewall height from 4' to 12'.  (OK for custom Heights).
Choice of end walls and doors, some allowing tractors to pass.
The USA triple-galvanized Gatorshield in strong frames for the wind, crop, and snow load resistance you need.
Always included Suntex Service to help you plan, budget, know fixed & variable costs, P&L, and greenhouse maintenance.
Inquire about our Rack n Pinion Vent Systems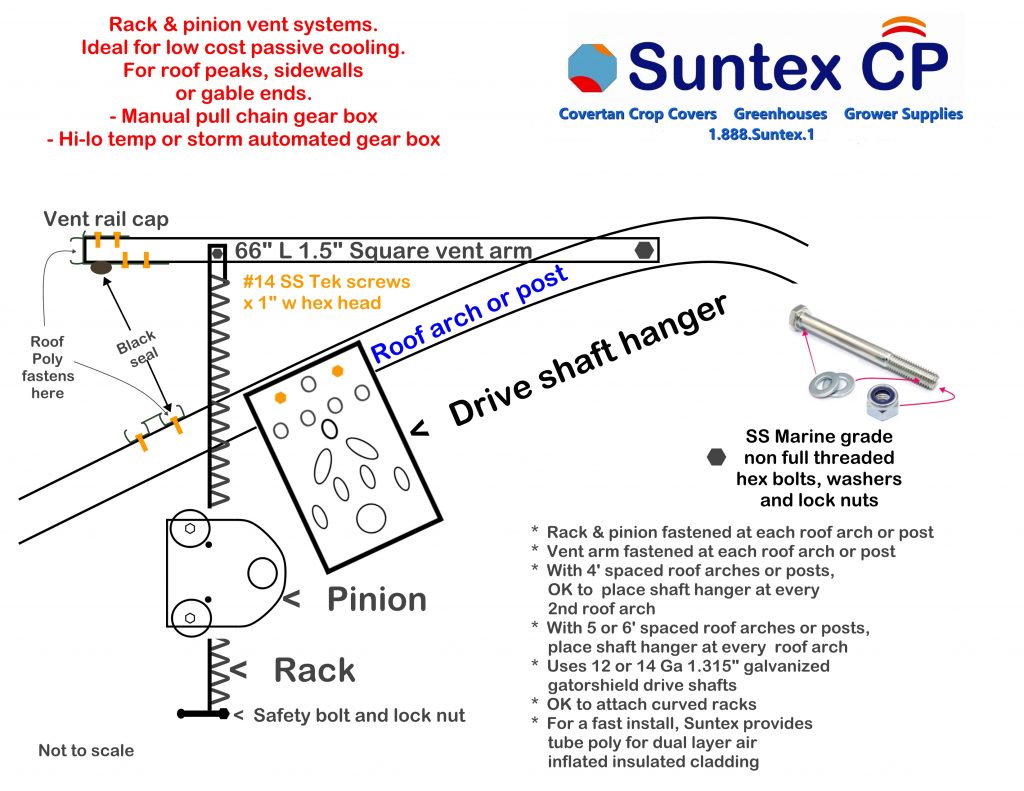 NEW!   Our neighbor provides round or square tube Powder Coating up to 24' - Call for pricing.