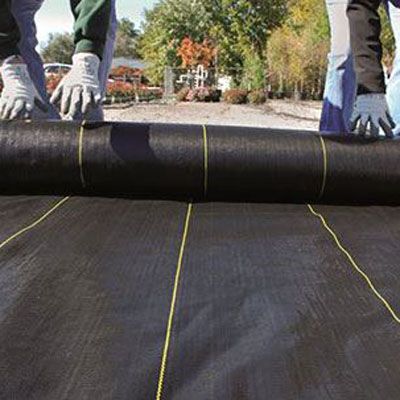 Black Woven Ground Cover.  This woven polypropylene fabric is UV stabilized, extremely strong, water and air permeable, and far superior to sheet plastic. Effective weed blocker. 3.2 oz./sq. yd. with stripes on every foot.
3'x300′   4'x300′   6'x300′  8'x300′    10.5'x300′  12.5'x300′    15.5'x300′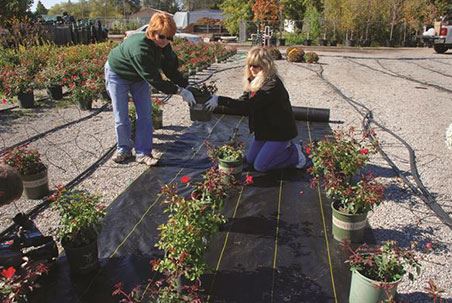 Keep your Greenhouse cool from the ground up.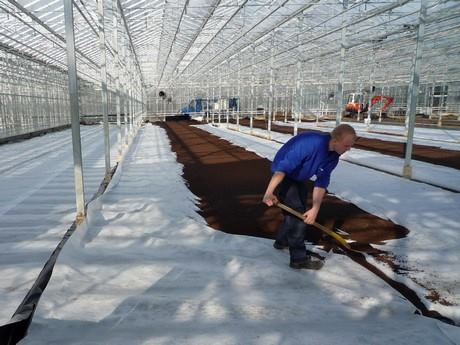 White on Black Woven Ground Cover 3.8 oz./sq. Yd. The white up reflects the sun and heat for applications where cooler soil & sunlight reflection is preferred. Very similar to our black woven ground cover, except stronger, and this product has white and black strands interwoven—white on one side and black on the opposite side. The black underside is an effective weed blocker & prevents weed seeds from germinating. Upon request, we still offer white 3.2 oz. 3'x300′ 6'x300′ 12′ x 300′ 15'x300′

Then around your Greenhouse perimeter, place our Bright Silver/Black PE Ground Cover. Approved by the University of Florida IFAS, this keeps weeds out and deters viral insects from entering your Greenhouse with a clear top layer to protect the aluminum coating. We recommend 16′ + widths.
6′ x 1000′ 7′ x 1000′ 8'x1000′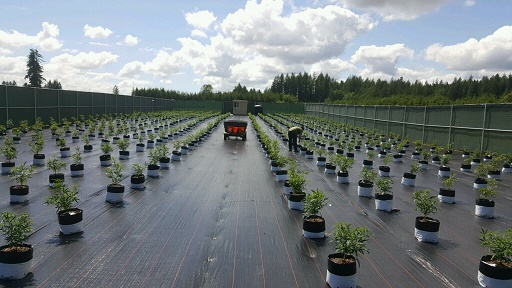 UltraWeb Black Woven Ground CoverLighter weight UV stabilized, woven cloth is firm and far superior to sheet plastic. This woven polypropylene fabric is water and air permeable yet blocks weeds effectively.  Popular for seedbeds, stronger and easier to handle than silage tarps 2.2 oz./sq. Yd. with stripes on every foot.      24′ x 200′     32′ x 150′     40′ x 120
Peg Down your Ground Covers with our Staples – Drive them in with a rubber mallet.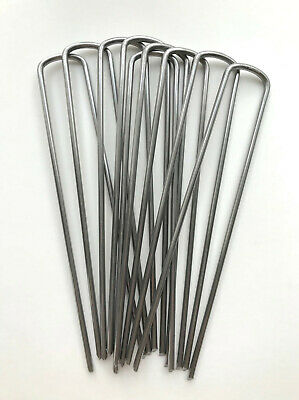 HD 8″ x 1″ x  8 Ga. Galvanized Pegs – 500/Box
6″ x 1″ x 11 Ga. Galvanized Pegs – 1000/Box